Posted on
April 11th, 2008
by Snow Wildsmith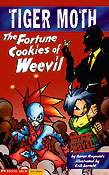 Tiger Moth: the fortune cookies of Weevil
Written by Aaron Reynolds; illustrated by Erik Lervold
Ages: 8-10; Reading Level: 3.3
Stone Arch Books, $4.95
Tiger Moth, fourth-grade ninja, and his sidekick Kung Pow face a mysterious new foe in this third book in the Tiger Moth series. Mysterious clues and dastardly villians abound as Tiger Moth tries to find out who is organizing the bad bugs of the town.
Reynold and Lervold's story is cute and certainly has potential to appeal to kids, but its extremely short page count leaves readers hanging just when they've gotten into the story. Adults reading along with their kids will find that Tiger Moth's adventures harken back to older comics in both feel and wording, especially when Tiger Moth is speaking. Kung Pow is a traditional sidekick, offering a mirror to reflect the hero and being on hand to add comic relief. Making the characters bugs is an inspired choice. It allows for a number of puns and also helps keep the light, fantastical feel that the book needs. Lervold's art is eye-catching in its full-color. His panels stick mostly to square and rectangular and his backgrounds are not detailed at all, giving the entire work a Saturday-morning-cartoon feel.
Though this is the third book in the series, readers will be able to dive in and follow the main storyline with no problem. Some background details are probably explained in earlier volumes, but lack of knowledge about them shouldn't frustrate so much as inspire readers to seek out the other books. A glossary, discussion questions, and a brief history of secret messages are included, as are three well-chosen and very interesting writing prompts, making this a possible choice for use by a book group or classroom. Teachers might want to supplement the Tiger Moth works with more substantial fare, but even with the thinness of the story, Reynolds' and Lervold's action comic will appeal to readers, especially boys.